Sports Turf Chosen to Renovate Eastside High School
SportsTurf Company of Whitesburg won the job with a bid of $622,833, beating out Sunbelt Asphalt Surface of Auburn, Ga., which had a bid of $713,407.
The project includes installing new sod on the playing surface and new track surfacing, installing a drainage system for the track and modifying the existing storm drainage system for the field.
The work is scheduled to begin in the middle of July in hopes of being completed by the middle of October. If the work can be completed on time, the field should be ready for use in time for the start of soccer season.
Jan Loomans, director of Operational Services, explained to the school board members how the track has so many divots and damage that the school is no longer able to hold competitions or use it for practices.
"It has been in terrible condition for about six years, but due to the economy, the school system has put off making any repairs. Now, however, those can no longer be avoided," Loomans said. "Football practice and soccer games can also no longer be played on the field because of all the potholes. In fact, soccer has been played at Sharp Stadium instead."
While repairs to the track have not been attempted due to its poor condition, they have tried to repair the field over the past six years.
Board member Shakila Henderson-Baker agreed and pointed out that this has been an ongoing issue for some time and many parents of soccer players have addressed the BOE with concerns about the field.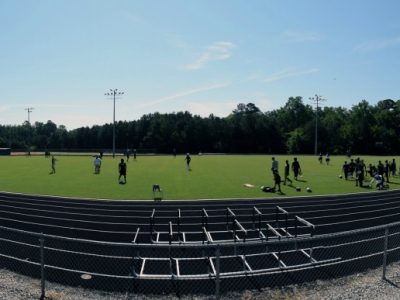 While most of the members agreed that the work has to be done, board member Eddie Johnson questioned the decision to begin the work so quickly.
Johnson said he understood there have been shortfalls in the budget for improvements in the past but that he would expect that the board would like a more detailed presentation of the plans to improve the track and field. He also asked why a decision had to be made so quickly.
Stan Edwards, who represents District 1 on the BOE, said that this discussion does open up the need to revisit Newton County School System's policy governing use of facilities by the public and other organizations. He said other facilities are not open to the public year round, except the track.
"That track takes a beating by the public. I may not be popular in saying this, but I believe preserving these for the athletes is important to me," he said.
Board Chair Abigail Coggin agreed and said that item will be added to the agenda for an upcoming board work session.
Superintendent Samantha Fuhrey also agreed that it may be time for the school system to revisit its policy on use of facilities.
http://www.newtoncitizen.com/news/eastside-to-get-practice-field-track-replaced-for-k/article_053c64ff-8723-5d7d-b342-1a2d9d0bcb7e.html