Sports Turf Company takes home multiple honors in the Associated General Contractors of Georgia, Build Georgia Awards 2019. Sports Turf Company takes home first place in the Specialty Contractor's category for Colquitt County High School's Athletic Facility in Moultrie, GA. Oconee and North Oconee High School's Athletic Facilities won first place in the General Contractor's Category.
Colquitt County High School's practice facility was awarded to Sports Turf Company, Inc. through a competitive proposal process in early 2017. Construction of the one of a kind practice facility began in May and included the construction of an outdoor artificial turf field and track and 100-yard artificial turf indoor field. Sports Turf Company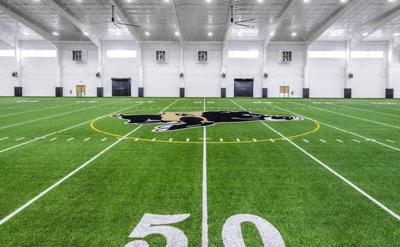 began by establishing subgrade on the outdoor synthetic turf field and track area. A 6-inch porous stone base was installed accompanied by a full underdrain system which ensures a minimum of 60 inches an hour to drain successfully from the new synthetic turf field. Track drains were installed around the perimeter of the field to capture runoff from the track.
The artificial turf system installed on the field is AstroTurf 3D3. This system features a RootZone. This texturized layer of fibers that lives where thatch would be found in Bermudagrass, encapsulates infill, significantly reducing rubber splash, better shock absorbency, and less infill migration than basic systems. Sand was incorporated into the synthetic turf system as a ballast before SBR rubber was groomed into place. Z-Cap, a mineral that absorbs 81% of its body weight in water and then slowly releases it to cool off the field, was incorporated over the SBR rubber. Once the structure was completed by others, Sports Turf Company began construction of the field inside. The 100-yard synthetic turf practice field incorporates the same drainage design as the outdoor field. The indoor field also features the AstroTurf 3D3 artificial turf system, which is critical for indoor environments where the lack of humidity results in very dry rubber infill that can migrate easier. The RootZone layer in the turf system plays a significant role in keeping the infill in place and improving footing vs other indoor turf systems.
Sports Turf Company's certified track builders constructed an 8-lane track around the new synthetic turf practice field. Running track construction began with installation of a 4-inch stone base and 3-inches of asphalt. A Spurtan BV track surface was installed and the running track lined for GHSA competition.
For Oconee County Schools, Sports Turf Company completed the renovation of Oconee County and North Oconee High schools' running tracks and artificial turf fields in the Summer and Fall of 2018. Both fields were renovated from natural grass to artificial turf in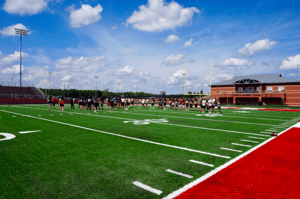 time for the 2018 football season.
Like the fields at Colquitt County High School, both athletic facilities featured AstroTurf's 3D3 artificial turf system, a performance system that combines slit film, monofilament, and Rootzone fibers for optimal safety, durability and visual appeal.
The track surfaces are a Rekortan G10 full pour system, a performance track system that makes it one of the best in the region. The gel layer will provide exceptional adhesion to the asphalt surface and cushion under foot for runners. There is a wear layer on the surface that can be re-topped periodically over the years as necessary to further extend the life of the track at a minimal future cost.
Sports Turf Company appreciates the important role the AGC plays in work force development and representing commercial contractors, and is honored to be the recipient of these two first place awards.