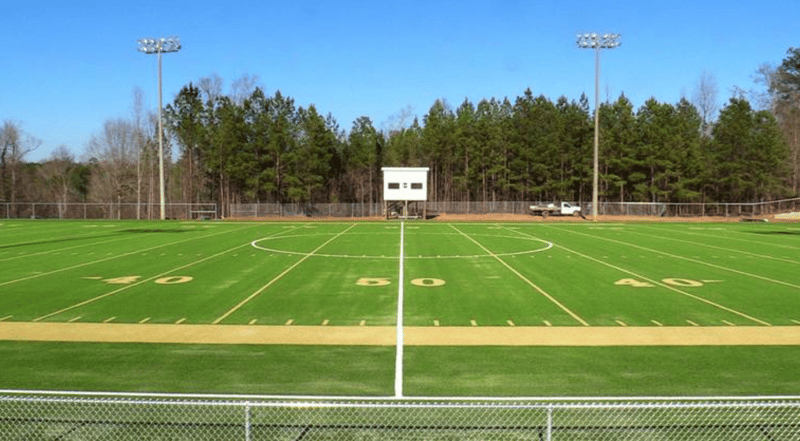 The student-athletes in Bibb County will see and feel a noticeable change when they step on the fields at the Ed Defore Sports Complex.
Bibb County Athletics is finishing up a project to renovate the football and soccer fields at the complex. Athletic Director Barney Hester said that the project started about four months ago but has been in the works for awhile.
"Conversations started at a retreat last year that they wanted to look at ways to improve the facilities at Ed Defore," he said. "We are putting artificial turf on the soccer field and the football field."
The fields will be using state of the art technology, Hester said. "We chose the artificial turf, but what we did with that was we put a pad underneath there. It is called a Brock Pad. On the football field we are using a new product that Brock has just come out with called Brockfill."
The padding underneath is similar to the kinds that the NFL and other major sports organizations have been testing to figure out how to reduce injuries associated with the playing surface. The Brockfill is a cooling agent made from wood chips in Hazelhurst, Georgia, that will go on the football field to help keep the temperature of the field down during the hot summer months.
The upgrades will cost $2 million dollars and the funding will come from the ESPLOST funds. Hester said the material choices were made based on safety, and not cost.
"When you are dealing with artificial turf it is somewhat more expensive but I don't think you can take a lesser product," he said. "You always have to look at the dollars and cents but if you are going to spend, then you have to spend on safety over aesthetics."
Tripp Youngblood, the head athletic trainer for Peach County High School, said he's glad that Bibb County chose to add the additional padding underneath the synthetic turf.
"It is good that Bibb County is going in this direction with trying to use the latest and greatest technology. That is great for their athletes," Youngblood said. "That is the first I have heard of a high school system going with some of that technology."
Read more here: https://www.macon.com/sports/high-school/article224565030.html