Sports Track Wins Gold at High School State Track Championships
Sports Track, a subsidiary of Georgia-based Sports Turf Company, sponsored the 2019 Georgia High School Association (GHSA) 5A and 6A Boys & Girls State Track Championships in Carrolton, GA. During the event, Sports Turf unveiled the latest in track technology with a demonstration of the Rekortan Smart training system
As the world's first intelligent running track it provides athletes and coaches with the perfect solution to increase effectiveness and efficiency during training.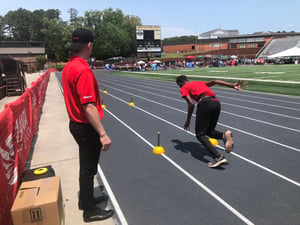 Rekortan Smart utilizes a series of magnetic "gates" and a simple, built-in recording system to log performance insights such as running and interval times, distance, step frequency, step length and step quantity. In addition, multiple athletes can train at the same time. Data is easily downloaded to a laptop for analysis. The system is durable and weather-resistant, with no set-up or dismantling required.
"We are proud to support high school coaches and athletes from across the state," said Todd Wiggins, President of Sports Turf Company. "In track and field competition, hundredths of a second can make the difference between winning and losing. This technology, exclusively offered by Sports Track Company, helps young athletes train smarter, which leads to better opportunities for success in competition."
Sports Turf specializes in construction and installation of all different types of sport surfaces; Natural grass and artificial turf football, baseball, soccer fields, tennis courts and track surfaces. In addition, Sports Turf prides in serving as a consultant and owner's advocate through the entire process of selecting the best facility drainage and surfaces to meet owners' specific needs. Work with Sports Turf and you can expect insightful guidance, expert installation and ongoing care, with a focus on safety, performance and durability.