Winning SportsField Management magazine's inaugural Field Builder of the Year award came out of left field for Sports Turf Co.'s Aaron McWhorter and Dan Wright.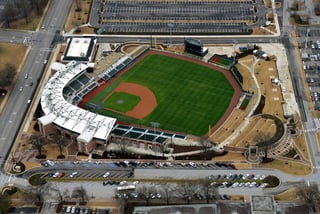 The president and vice president of the Whitesburg, Georgia-based company were surprised when it was announced their company won the award during the American Sports Builders Association's (ASBA) annual Technical Meeting in December in Ponte Vedra Beach, Florida.
After receiving the award, McWhorter and Wright sat down to talk with SportsField Management about the company's history. A point they wanted to make is that Sports Turf Co. isn't just about the brass when it comes to the company's success.
"There are many more people who make this work," says McWhorter, the company's founder.
The "team" metaphor is often overused, bordering on cliché, but it's the real deal at Sports Turf Co.
"We all pitch in together to help each other on various jobs," says Senior Superintendent Jason Hester, who has been with the company for 17 years. "It's truly a team."
Sports Turf Co. at a Glance
Founder and President: Aaron McWhorter
Vice President: Dan Wright
Home Base: Whitesburg, Georgia
What They Do: Construct football, baseball and soccer fields as well as running tracks
Where They Do It: Georgia, Tennessee, Alabama, Mississippi and Louisiana
Annual Sales: More than $10 million
Means to an End: "It's about treating people the way you want to be treated and giving them the product that they want," Dan Wright says.
Sports Turf Co., which has completed more than 600 sports field renovation and construction projects throughout the Southeast, employs about 50 people. Many have worked for the company for 10 years or more.
Most employees started as apprentices and developed an expertise in the business, such as laser grading, with Sports Turf Co. being one of the first in the industry to implement it in 1991, according to McWhorter.
The 67-year-old McWhorter started the company in 1985, doing some minor sports field repair work. He had also started a sod farm and needed a market for the sod. McWhorter, who had previously coached high school football, had connections throughout the athletic community.
The business grew steadily, increasing from installing two pallets of sod on a baseball field to large sports complexes now . McWhorter added irrigation work to the company's offerings, and eventually grew into a general building contractor. In 1991, McWhorter established Sports Turf Co.
Mississippi State, Auburn University, the University of Alabama (including Bryant Denny Stadium), and the Atlanta Falcons' training facility in Flowery Branch, Georgia, are among the company's list of longtime clients. Sports Turf Co. is licensed to construct football, baseball and soccer fields, as well as running tracks in five states: Georgia, Tennessee, Alabama, Mississippi and Louisiana. Ninety-percent of the projects are in Georgia and Alabama. The company aims to expand to Florida and possibly South Carolina.
In 1994, Sports Turf Co.'s sales were about $350,000. Then the company won a bid to build Golden Park, the 1996 Olympic softball complex in Columbus, Georgia.
"That project jump-started us," Wright states. "People saw the quality of work that we could do."
Today, the company's sales are more than $10 million annually.
The sod division, comprised of more than 2,000 acres at several locations, is about as large as the general contracting sector. The company sells several varieties, including bermudagrass, zoysiagrass and fescues.
McWhorter says the company's goal is to make sure every customer receives "Cadillac-like" customer service.
"It's about treating people the way you want to be treated and giving them the product that they want," Wright adds.
It starts at the top:
McWhorter grew up in Heard County, Georgia, working on the family dairy farm, where he learned the concept of hard work. With a bachelor's degree in education, McWhorter worked as a teacher for a few years before returning to work on the family dairy farm in 1972 and staying until 1985, when he began the sod company.
Wright graduated from Florida State University in 1972 with a bachelor's degree in history and military science. He joined the U.S. Army, where he spent the next 20 years. After leaving the military he enrolled at the University of West Georgia to earn a master's degree in business.
One day in 1995, near his graduation, Wright was walking down the hall when the assistant dean of the business school stopped him.
"He asked me where I was going with my career," Wright recalls. "I told him, 'I have no clue.' I was 44 years old and the oldest guy in the school … besides the professors."
The assistant dean told Wright that he had a friend, McWhorter, who might be interested in hiring him. He asked Wright for his résumé to give to McWhorter. Wright and McWhorter met about a month later.
"We hit it off immediately," Wright says. "We discovered an instant like, trust and confidence in each other."
McWhorter was impressed with Wright's military background, which included service in the First Gulf War. McWhorter wanted a team player with solid administrative skills to run the business.
Wright, who oversees everything from payroll to insurance, is as organized as a librarian. And if you ask him what he took away from his time in the army, Wright won't hesitate to respond, "Teamwork."
"I don't care what branch of the service you're in," he notes. "Everybody has to work together to complete a mission. If you don't, you're going to fail. And there's no room for failure. Because if you do, somebody is going to die."
The 65-year-old Wright says, "Everybody relies on everybody to do their jobs. That's why we're successful."
Another aspect of teamwork is respect. McWhorter's the boss, but he doesn't meddle.
"He won't get involved in your job unless you ask for it or he sees you might be struggling a little bit or need some guidance," Wright explains.
McWhorter spends time in the office and in the field. He says it's important for the president of the company to show his face on every job site.
While Sports Turf Co. operated as a family business for several years, McWhorter turned it over to the employees about four years ago. Being an employee-owned business has benefitted the company. "We're not just employees, we're the owners of the company," Hester explains, noting that the transition in ownership led to a boost in employee morale.
"Associating" Themselves:
McWhorter and Wright have been involved in several associations, including the ASBA.
"Joining the association is an opportunity for people to get exposed to technology that they wouldn't get otherwise," McWhorter says.
The ASBA has been growing 3 to 4 percent annually for the last several years. That growth is directly related to the industry's growth, the result of change to requests for kids, teenagers and young adults to play on better, safer fields.
"I grew up playing on a pasture, as did all people my age," McWhorter says. "That's not acceptable anymore."
Keeping up with the Joneses is also fueling the industry's growth. When one community puts in a new sports complex, neighboring communities want to follow suit. At the collegiate level, one school will build a new outdoor practice facility and the other schools in the conference will follow soon after, McWhorter explains.
While the industry is growing, it still has its challenges, with stormwater management at the top of the list because of increased government regulations, Wright says.
"You just can't go put in a synthetic turf field without going through a government agency that will approve installation of that field," he adds, noting that detention areas in synthetic fields must now be built to hold water and then slowly release it.
"It's a major construction activity and a major cost," Wright adds.
But Sports Turf Co. will take on any challenges and roll with the changes, as it has done since its inception – as a team, of course.
http://www.sportsfieldmanagementmagazine.com/the-latest/newsmakers/sportsfield-managments-2014-field-builder-of-the-year/