Sports Turf Completes Track and Field at the Wetumpka Sports Complex
Sports Turf Company, a sports facility construction and specialty surfacing company, is excited to announce the completion of the AstroTurf Rhino Field and Rekortan Full Pour Track System at the Wetumpka Sports Complex in Wetumpka, Alabama. The completed field and track will serve host to Wetumpka High School football games and track meets as well as community athletic events.
Sports Turf began work on the project in early 2020 for the construction of the artificial turf football field and 8-lane track at the Wetumpka Sports Complex. The full scope of the project included: artificial turf base construction, artificial turf installation, track base construction, asphalt paving, inside and outside curbs, synthetic track surface installation and stripping.
The community is buzzing with excitement over the completed complex. "It gives our program such a big lift," Wetumpka athletic director Tim Perry said to the Wetumpka Herald. "We have all been waiting for this stadium to open so now that it's starting to become a reality, it's exciting. This is something for us to look forward to, especially something that is as incredible as this. This isn't just big for our football program but for our athletics program and our community."
(Photo courtesy of Brian Tannehill Photography)
The stadium field at Wetumpka Sports Complex will primarily serve as the Indian's home field but will also host different athletic events. AstroTurf's Rhino Blend synthetic turf system was installed for high-level performance and durability. The new field creates a space that can be used for multiple sports, year around and in all weather conditions. This capital investment will achieve a high return by maximizing available use of the field and improving the experience for all the young athletes who practice and compete on it.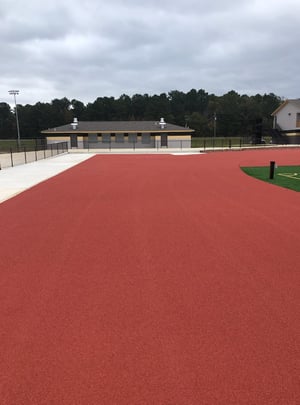 The new 8-lane track installed will allow Wetumpka High School to host track meets, making the facility the only other site in the region to do so besides Selma. The stadium track features Rekortan M99 synthetic track surfacing which can stand up to high wear and tear for practice and competition.
"This complex has been highly anticipated by the community for a long time and we're honored to play our part in making it happen," said Sports Turf Company President Todd Wiggins.
Sports Turf Company, a specialty athletics construction company with nearly 30 years of experience, constructs the finest natural grass and artificial turf fields, tracks and tennis courts. The company has three Certified Field Builders and two Certified Track Builders, as recognized by The American Sports Builders Association (ASBA), making it one of the highest qualified athletics construction companies in the southeast. Sports Turf Company strives to build the safest, best performing and longest lasting athletic facilities.