AUBURN, AL (WTVM) - The start of football season for the Auburn High School Tigers is exactly 16 days away, but adding to that excitement is the unveiling of a brand new state of the artificial turf field at Duck Samford Stadium.
Auburn High decided to move forward with the nearly $700,000 renovation project with the belief that it could help save money compared to the costly maintenance of the previous grass field.
"One big factor in the board making a decision to move to the synthetic turf was the length of time that we play on this field. During the football season you have JV-varsity and then your 7th and eighth-grade teams that play in this facility. So in a given week we may play 5 to 6 football games," said Daniel Chesser, the Public Relations Specialist for Auburn City Schools.
The project began at the end of May following the completion of the soccer seasons. Chesser says that they had a guarantee from Sports Turf Company, that they would have it completed by the first game.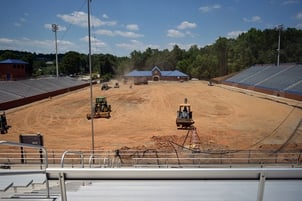 "During the fall we have anywhere from 20-30 football games, between those different levels of football," Chesser said. "And then when you get into the spring we have boys and girls soccer that plays out here anywhere from 70-80 games. And then you have lacrosse club that plays their game here as well."
There are minor details that have yet to be completed because of the weather recently, they still need to lay down sand and rubber bits onto the field. Auburn is hosting the first 7A football game in the state against Carver-Montgomery on Aug. 18.
http://www.wtvm.com/story/32599831/new-look-for-duck-samford-stadium-in-auburn